Tuesday, Day 3
(Click on pictures to enlarge)
Kathy Wrote:
Well, another Ride the Rockies day has come and gone. This one started very early for
Tommy and me, as we spent the night with my cousin Diane and her husband Peter in Chama,
New Mexico. We left Chama at 5:30a in order to meet up with Alice and Dean in Alamosa
(a 70-mile drive) by 7a. We did just that and, after breakfast and a few words of thanks for
calm winds, they headed off for the 83-mile ride to Salida at around 7:35a.
In order to avoid most of the cyclists, I took an alternate route. My path joined that of
the riders at the base of Poncha Pass. I was interested to note that there were cyclists
who had made their way that far (50 miles) by 9:10a. In fact, I kept encountering riders
until I reached the summit at 9:35a. Since the ride from the summit into Salida is mostly
downhill, those first riders likely pulled into Salida not too far behind me.
I noticed that the wind had picked up a little as I was climbing Poncha Pass, but I could
not tell from what direction it was blowing. I was keeping my fingers crossed that, if
the folks were feeling the wind, they were feeling it at their backs. Talking to some
folks who arrived at the hotel around lunchtime, I was told that today's ride had been
everything that yesterday's ride had not been. The early folks were treated to a tail
wind for almost the entire ride. There were a lot more smiling faces today than there
were yesterday.
I went over to Salida High School around 3p to meet Tommy, Alice, and Dean. I missed
Dean's arrival; he was the first of the three to come in. I greeted Tommy and Alice as
they turned the last corner into the high school grounds. We met up with Dean and, over
latte, smoothies, and Gatorade, I heard about the day's ride.
Once they got established on Highway 17, the three of them formed a pace line and averaged
over 18 miles per hour through the first 40 miles. After mile 40, they started
experiencing small, gusty cross winds. Unfortunately our three favorite riders were not
going to be as blessed as the early starters were. These winds increased as they got
further into the ride, reaching their maximum as the group headed up Poncha Pass. Even
though they were cross and not head winds, they had a very negative impact on riding, and
the fact that they were gusty only compounded the problem. About a mile from the summit,
the winds diminished somewhat. The descent into Poncha Springs was rapid, but they had to
be careful because of the wind gusts. While waiting for the group to return, the woman
next to me said that she had heard that some folks had had accidents caused by the gusts,
and that at least one person had broken their wrist (this is hearsay and has not yet been
confirmed). On the last five miles, from Poncha Springs into Salida, they had a slight
downhill grade and a tail wind, both of which were very welcome.
Here are today's statistics:
Total miles: 83
Time from start to finish (including stops at the aid stations): 7 hours, 15 minutes
Time in the saddle: 5 hours, 37 minutes
Maximum speed: 39 miles per hour
Average speed while riding: 14.9 miles per hour
A lot of the cyclists are suffering the effects of yesterday's brutal ride. Many folks
are sporting ace bandages and ice packs, primarily on their knees. Tommy said that he
noticed a lot of folks riding in the sag wagons again today, even though the ride was a
much easier one. Fortunately, our three are injury-free, with only reasonable amounts of
ibuprofen needed to help them along.
We all got together for dinner, and have called it a day early. Because of the potential
for increasing winds on tomorrow's ride (an all-up climb to Leadville) as the day
progresses, they are planning to leave at 6a.
...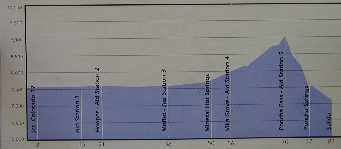 Day 3...Alamosa to Salida, 83 miles.
After the terrible winds of day 2, day 3 started out calm which was a great relief. Tom, Dean, and Alice drafted each other and averaged 21 mph through the first 42 miles. Photos A through I are at the aid station 15 miles into the days ride. Pictures C through D show Dean and Alice relaxing at the station whereas the pictures F through I show some of the other cyclist.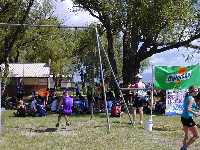 A.....
B.....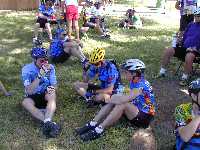 C.....
D.....
E.....
F.....
G.....
I

At mile 50 the winds started again, but this time the winds were crosswinds. After the day before, some people sagged immediately. I am sure their thinking was "not again". However, the winds did not last long, and eventually we reached the summit of Poncha Pass. Photo A shows the tent where they had prepared baked potatoes with a variety of toppings. There was even a potato tossing contest as shown in photo B. Photos C and D were some of the scenes from the top of Poncha Pass, while photos E and F are of Alice and Tom. It was a quick ride from the summit to Salida with an actual TAIL WIND for the last 5 miles into Salida.

A.....
B.....
C.....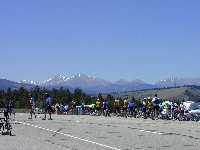 D.....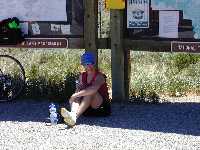 E.....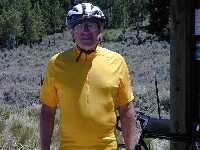 F